ORDER DVD
WABDR DVD $24.95 from Touratech-USA
THE WABDR
The Washington Backcountry Discovery Route (WABDR) is a scenic route across Washington State from Oregon to Canada through the Cascade Mountain Range. The 600-mile route follows a connection of mostly unpaved back roads that can be ridden on dual-sport and adventure motorcycles or driven in 4×4 and high-clearance 4WD vehicles. The route is usually snow-free July through September.
THE MOVIE
When Bryce Stevens and Andrew Cull won the 2010 Overland Flag Competition for their proposal to create an off-road route across the state of Washington, they decided to make their vision a reality. In the spring of 2010, the two adventure motorcyclists from the Northwest began scouting and mapping a new off-road route across Washington State from Oregon to Canada for dual-sport adventure motorcycles and 4×4 vehicles.
THE DVD
The WABDR DVD contains the full feature-length movie about the WABDR motorcycle expedition. It also includes additional bonus footage about the route, planning tips, sponsor videos and other movie trailers. GPS tracks for the entire WABDR route are also included on the DVD.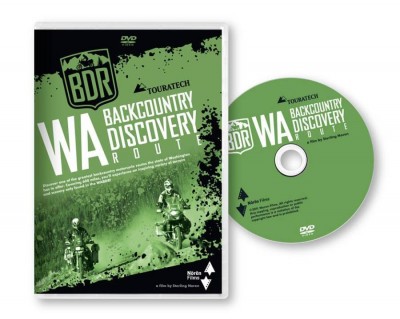 DVD REVIEWS
"Well worth watching if you're into or thinking of Dual Sport Riding. Explains how fast the sport is growing and where the sport is heading. A fasinating look into the world of dual sport riding."
– Amazon.com
"I just bought my first dual-sport bike (G650GS Sertao). I've watched this video 4 times – fascinated by the scenery and the ride. Can't wait to tackle this myself!"
– Amazon.com
DISC INFO
Video Format: NTSC, Standard-Definition
Audio Format, Dolby Stereo
Aspect Ratio: 16:9 (Widescreen)
Regions: All Regions
Number of Discs: One dual-layer disc
Movie Length: 1 hour
Bonus Material: 1 hour
WABDR GPS Tracks
Studio: Noren Films
DVD Release Date: Feb 01, 2011
Retail Price: $24.95
DVD CHAPTERS
01 Sponsors
02 Intro
03 Preparations
04 Stevenson
05 Section 1
06 Section 2
07 Bethel Ridge
08 Hard Riding
09 Umtanum Ridge
10 Section 3
11 Scouting Trip
12 Section 4
13 Section 5
14 Section 6
15 Close
16 Credits
DVD BONUS SECTION
Day Six – Search and Rescue
Route Highlights Videos
Sponsor Videos
WABDR GPS Tracks
Noren Films DVD Trailers
GlobeRiders DVD Trailers
DVD Order Info
Contact Info
Production Credits
Sponsors
PRODUCTION CREDITS
Producer/Director – Sterling Noren
Director of Photography – Sterling Noren
Additional Video – Helge Pedersen
Helmet Cam Footage – Radek Burket, Andrew Cull, Helge Pedersen
Narrator – Dave Steele
Video Editor – Sterling Noren
Still Photography – Helge Pedersen, Don Stephanian
Post-Production – Noren Films
Graphic Design – ADV Brands
EXPEDITION TEAM
Bryce Stevens – KTM 990 Adventure
Andrew Cull – BMW R1200 GS Adventure
Tom Myers – BMW HP 2
Paul Guillien – BMW F800 GS
Helge Pedersen – BMW HP 2
Sterling Noren – BMW F650 GS Dakar
Andrew Sadler – Support Vehicle Driver
SPONSORS
Touratech-USA
Klim
South Sound Motorcycles
Ride West BMW
Butler Motorcycle Maps
Nemo
GlobeRiders
Remote Medical International
Overland Society
Rawhyde Adventures
SPECIAL THANKS
MSR
Thermarest
Walking Man Brewery
ADV Brands
Teknik Studios
Hinshaw's Motorcycle Store
ARB 4×4 Accessories
DISTRIBUTION
Touratech-USA
4021 Airport Way South
Seattle, WA 98108
(206) 323-2349
1-800-491-2926
www.touratech-usa.com
ABOUT THE BDR
Backcountry Discovery Routes is a 501c (4) non-profit organization whose mission is to establish and preserve off-highway routes for dual-sport and adventure motorcycle travel. Through education, advocacy, and promotion of responsible motorcycle travel, BDR seeks to preserve backcountry motorcycling opportunities for generations to come.