THE COBDR
The Colorado Backcountry Discovery Route is a scenic ride across the state of Colorado, beginning in Four Corners and finishing at the Wyoming Border. The route has been created specifically for dual-sport and adventure motorcyclists who are interested in exploring Colorado's majestic high-mountain ranges and historic mining country. This 675-mile south-to-north route utilizes many remote and high-elevation dirt roads and leads riders through a number of iconic locations including Telluride, San Juan Mountains, Continental Divide, Collegiate Range, Northern Rocky Mountains and historic Leadville, along the Colorado River.
THE MOVIE
This exciting documentary gives you an in-depth look into the creation and first expedition of the COBDR. Follow a group of riders on large adventure touring motorcycles including KTM 990 Adventures, Yamaha Super Tenere XT1200Z, and a BMW R1200GS, tackle some of the toughest terrain while traversing the beautiful Colorado backcountry.
THE DVD
The COBDR DVD contains the full feature-length movie about the WABDR motorcycle expedition. It also includes additional bonus footage about the route, planning tips, sponsor videos and other movie trailers. GPS tracks for the entire COBDR route are also included on the DVD.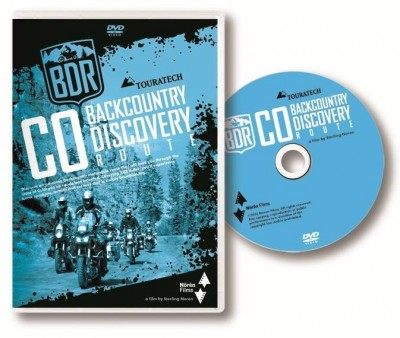 PURCHASE DVD
Touratech-USA
1-800-491-2926
DVD REVIEWS
"It is clear that Noren has hit his stride… The color commentary is funny, the visuals are amazing, production quality is excellent, and they strike a good balance of showing the route and talking about the larger purpose of the BDR and what makes this and motorcycling and camping in general so fun. I should have bought this DVD at the premiere. Definitely recommend this DVD, even if you (like myself) have no plan to ride the COBDR."
-Touratech product reviews
"This is quite an enjoyable and visually appealing movie, shot by riders for riders. It does a great job of showing off the beauty of Colorado's scenic beauty, and I was very impressed with the editing and the considerable effort it must have taken to make this film."
-Redlegs Rides
DVD INFO
Video Format: NTSC, Standard-Definition
Audio Format, Dolby Stereo
Aspect Ratio: 16:9 (Widescreen)
Regions: All Regions
Number of Discs: One dual-layer disc
Movie Length: 56 minutes
Bonus Material: 43 minutes
COBDR GPS Tracks
Studio: Noren Films
DVD Release Date: Feb 01, 2013
Retail Price: $24.95
DVD CHAPTERS
01 Sponsors
02 Intro
03 Section 1
04 Personalities
05 Altitude Sickness
06 Section 2
07 Day 3
08 Section 3
09 Section 4
10 Day 5
11 Section 5
12 Section 6
13 Credits
DVD BONUS SECTION
Route Highlights Videos
Sponsor Videos
COBDR GPS Tracks
Noren Films DVD Trailers
GlobeRiders DVD Trailers
Yamaha Super Tenere on the COBDR
Photo Slideshow
DVD MORE INFO
Route Warnings and Hazards
DVD Order Info
Contact Info
Production Credits
Sponsors
PRODUCTION CREDITS
Producer/Director – Sterling Noren
Director of Photography – Sterling Noren
Audio Production – John Standish, City Tracks
Video Editor – Sterling Noren
Helmet Cam Footage – Sterling Noren
Still Photography – Jon Beck
Video Post-Production – Noren Films
DVD Production – Noren Films
Graphic Design – ADV Brands
EXPEDITION TEAM
Jon Beck – BMW R1200 GS Adventure
Justin Bradshaw – KTM 990 Adventure
Paul Guillien – BMW F800 GS
Tony Huegel – Kawasaki KLR 650
Tom Myers – BMW R1200 GS
Sterling Noren – BMW F800GS
Bryce Stevens – KTM 990 Adventure
Rob Watt – KTM 990 Adventure
Jason Wickencamp – KTM 990 Adventure
SPONSORS
Toutatech-USA
Klim
Butler Motorcycle Maps
BMW Motorcycle Owners of America
Nemo Tents
Trailmaster Adventures
DISTRIBUTION
Touratech-USA
4021 Airport Way South
Seattle, WA 98108
(206) 323-2349
1-800-491-2926
www.touratech-usa.com
ABOUT THE BDR
Backcountry Discovery Routes is a 501c (4) non-profit organization whose mission is to establish and preserve off-highway routes for dual-sport and adventure motorcycle travel. Through education, advocacy, and promotion of responsible motorcycle travel, BDR seeks to preserve backcountry motorcycling opportunities for generations to come.