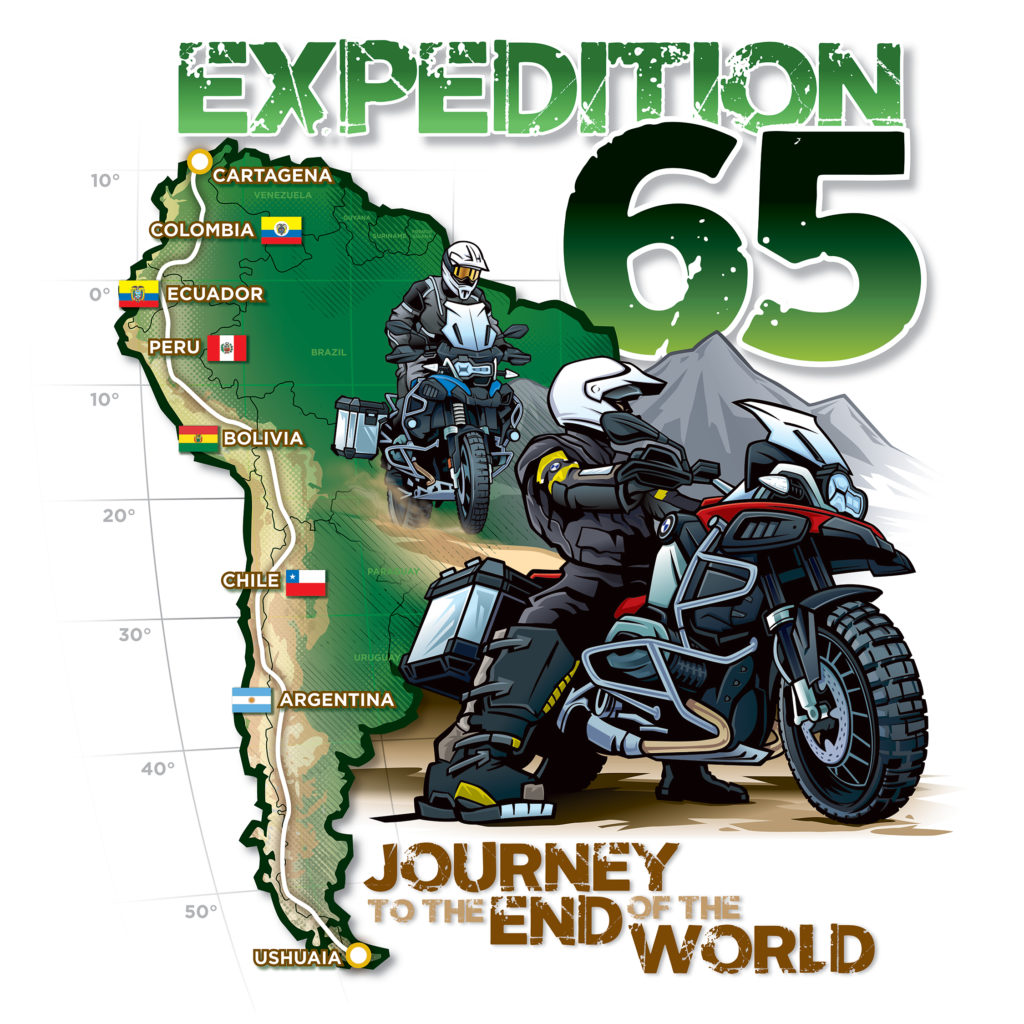 Expedition 65 is an adventure motorcycle journey from Cartagena, Colombia to the "end of the world" in Ushuaia, Argentina. A 4-part documentary series chronicles the 10,000-mile/65-day adventure of 15 motorcyclists who have decided to make this dream a reality.
The film is currently in post-production and details of it's availability will be posted here soon. Please check back for more information as it is released.
PRODUCTION CREDITS
Producer/Director – Sterling Noren
Executive Producer – Jim Hyde
Director of Photography – Sterling Noren
Additional Video – Alfonse Palaima
Video Editor – Sterling Noren
Helmet Cam Footage – Sterling Noren, Jim Hyde
Still Photography – Alfonse Palaima
Video Post-Production – Noren Films
DVD Production – Noren Films
Graphic Design –
RIDERS
Scott Brady
Tiberio Esparza
Colin Evans – Route Planning
Evan Firstman
Bill Hathaway
David Hostetter
Jason Houle – Mechanical Support
Jim Hyde – Organizer
Sterling Noren – Filmmaker
Alfonse Palaima – Photographer
Michael Ruppert
Pablo Vadillo – Logistics & Shipping
Chris Van Dyke
Bill Whitacre – Finance Manager
Chris White
SPONSORS
Aether
ARB
Clearwater Lights
Eagle Outdoor Sports
Jesse Luggage
Motorex
Nemo
Nexxpro
PullPal
Quigley Motor Company
Sena
Schutt Industries
Valley Group
Warn
Yeti
ABOUT NOREN FILMS
Noren Films produces award-winning documentaries, television series, instructional videos and advertising for the adventure motorcycling industry and beyond. Our award-winning programs celebrate the intersection of adventure, travel, culture, nature, art and history. The company was founded in 2006 by Sterling Noren and is located in Seattle WA.
ABOUT STERLING NOREN
Sterling Noren is the Founder and Director of Noren Films. His background includes 24 years of experience as a filmmaker, world traveler and adventure motorcyclist.