THE AFRICA ADVENTURE
The "Africa Adventure" from GlobeRiders chronicles a 6,000-mile motorcycle journey through the grandest scenery and most demanding terrain in South Africa, Lesotho, Swaziland, Botswana, Zambia, and Namibia. Filled with drama, beauty, challenge and local culture, the 37-day ride of discovery is shared through expert filmmaking and a beautiful musical score. As with all GlobeRiders movies, the riders' personal experiences, motorcycle issues and travel tips are also covered.
Not everyone will complete the journey, as the roads are punishing and the ride is demanding. Beginning in Cape Town, South Africa, an iconic city nestled on the southern spit of the African continent, the riders experience the vibrant chants of Zulu warriors, a safari deep in the wild heart of the Okavango Delta and a kaleidoscope of color splashed atop the world's tallest sand dunes. Along the way they will forge friendships to last a lifetime.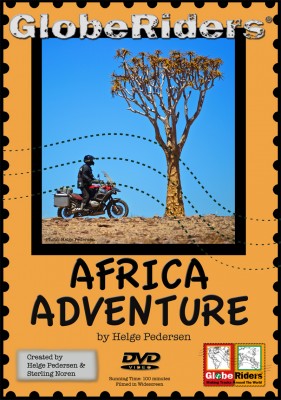 DVD REVIEWS
"The fifth touring production between Helge Pedersen and Noren Films proves to be one of the best so far with enough visual and educational impact to scratch the toughest of itches."
– ADV Moto Magazine, march/April 2012
"I really enjoyed the sub-themes of respect & humility throughout the film. Really separates it from the run-of-the-mill motorcycle travelogue."
– BMW Owners News
"I am definitely impressed with Sterling's cinematic prowess–his flawless fades, juxtapositions, plus his talent to notice, integrate smoothly,(and to weave) the various geological anomalies into the film (dare I say, somewhat Ansel Adams-imish?) I always live vicariously through these films, and generally harbor a bit of remorse that I had not been there."
– DVD Viewer
DVD INFO
Video Format: NTSC, Standard-Definition
Audio Format, Dolby Stereo
Aspect Ratio: 16:9 (Widescreen)
Regions: All Regions
Language: English
Number of Discs: One dual-layer disc
Movie Length: 100 minutes
Bonus Material: 44 minutes
Studio: Noren Films
DVD Release Date: Feb 01, 2011
Retail Price: $24.95
DVD CHAPTERS
• Introduction
• Cape Town
• Shipping Bikes
• Preparing to Go
• Cape Agulhas
• Ostrich Farm
• Bungee Jump
• Rogers Accident
• Sani Pass
• Dumazulu Village
• Swaziland
• Kruger National Park
• God's Window
• Botswana Border
• Geo Cache & Oil Cooler
• Okavango Safari
• Water Safari
• Savuti
• Kasane River Cruise
• Zambia Border
• Livingstone, Zambia
• Caprivi Strip
• Outjo
• Rhino Camp
• Swakopmund
• Namibia GeoCache
• Sossusvlei
• Fish River Canyon
• Cape Town
• Credits
DVD EXTRAS
DVD Trailers
Sponsors
Credits
Contact
PRODUCTION CREDITS
Producer/Director – Sterling Noren
Executive Producer – Helge Pedersen
Director of Photography – Sterling Noren
Additional Video – Helge Pedersen
Video Editor – Sterling Noren
Helmet Cam Footage – Helge Pedersen, Sterling Noren
Still Photography – Helge Pedersen
Video Post-Production – Noren Films
DVD Production – Noren Films
Graphic Design – GlobeRiders
RIDERS
Greg Blakey – BMW F800 GS
Lynne Clark – BMW R1200 GS
Vincent Cummins – BMW R1200 GS Adventure
John Hall – BMW R1150 GS Adventure
Jeff & Debbie Hower – BMW R1200 GS Adventure
Ben Jack – R1200 GS Adventure
Richard Lamph – Suzuki DR 650SE
Dan Marks – BMW F800 GS
David Marsing – BMW F800 GS
Diana Mayer – BMW F650 GS
Randy McClanahan – BMW R1200 GS Adventure
Sterling Noren – BMW F800 GS
Helge Pedersen – BMW R1200 GS Adventure
Tom Petrilo – BMW R1200 GS Adventure
Dan Townsley – BMW R1200 HP2
Roger Waterman & Emily McGay – BMW R100 GSPD
SPONSORS
Touratech-USA
Schuberth C3 Helmets
ABOUT GLOBERIDERS
GlobeRiders is a diversified motorcycle adventure touring and multi-media company founded by Helge Pedersen, headquartered in Seattle, Washington, USA. GlobeRiders specializes in small-group, long-duration scenic and cultural motorcycle journeys to areas of the world neither easily accessible nor commonly visited by most.
ABOUT HELGE PEDERSEN
Photojournalist Helge Pedersen is the author of 10 Years on 2 Wheels, which chronicles an amazing journey riding 250,000 miles by motorcycle through 77 countries. Documenting his travels, Pedersen's photographic passion celebrates the diversity of life on earth, focusing on human culture, wildlife and scenic vistas.
ABOUT NOREN FILMS
Noren Films produces award-winning documentaries, television series, instructional videos and advertising for the adventure motorcycling industry and beyond. Our award-winning programs celebrate the intersection of adventure, travel, culture, nature, art and history. The company was founded in 2006 by Sterling Noren and is located in Seattle WA.
ABOUT STERLING NOREN
Sterling Noren is the Founder and Director of Noren Films. His background includes 24 years of experience as a filmmaker, world traveler and adventure motorcyclist.