THE EURASIAN ODYSSEY
The Eurasian Odeyssey begins in China when a dozen motorcyclists set out from Shanghai to ride across the largest landmass on the planet. They head north through the densely populated cites of China, crossing the Great Wall and doing battle with the elements, mechanical breakdowns and non-existent roads. Crossing the border from Inner Mongolia into Russia, they head west across the vast Siberian Taiga, riding thousands of miles across eight Russia time zones, the expanses covered with endless forest, scattered with isolated pockets of people hardened from the harsh conditions. Russia's Ural Mountains serve as the gateway into Europe and the Black Sea, and a fascinating pit stop at the remote Ural motorcycle factory in Irbit. Through the green rolling hills and post-Soviet shadows of the Ukraine, Poland, Czech Republic, and Slovakia, the riders finally arrive in Munich, Germany, having traveled 65 days and 11,000 miles. A dozen GlobeRiders are elated and filled with a new sense of themselves, their accomplishments, and the remarkable world they live in.
THE MOVIE
With sponsorship from BMW Motorcycles of North America, Sterling Noren accompanied the team of 12 riders as a video producer and backup rider. Riding and filming by day and editing at night, he produced a series of videos which were sent back to the USA for broadcast on Speed Channel. After the project was complete, GlobeRiders produced a 30-minute documentary for BMW and Speed Channel. GlobeRiders Eurasian Odyssey is a 90-minute documentary available on DVD.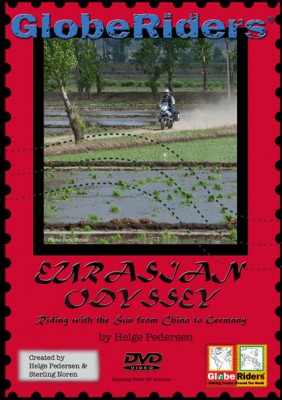 DVD REVIEWS
Many of us want to see exotic places from the seat of a motorcycle, but such adventures are expensive, time-consuming and often dangerous. For an investment of only $24.95 and 90 minutes of your time, the only risk you're likely to incur watching the GlobeRiders Eurasian Odyssey DVD is a sore arm from 12-ounce curls. Moto-adventurer Helge Pedersen and 11 others traveled 11,000 miles, from Shanghai, China, to Munich, Germany. Pour yourself a tall glass of something tasty, settle into your favorite seat and enjoy the(ir) ride!
– Rider Magazine blog, January 2010
DVD INFO
Video Format: NTSC, Standard-Definition
Audio Format, Dolby Stereo
Aspect Ratio: 16:9 (Widescreen)
Regions: All Regions
Language: English
Number of Discs: One dual-layer disc
Movie Length: 80 minutes
Studio: Noren Films
DVD Release Date: July 28, 2009
Retail Price: $24.95
DVD CHAPTERS
• Seattle
• China
• Russia
• Europe
DVD BONUS SECTION
Bonus Footage
DVD Trailers
Slide Show
Sponsor Video
Contact Info
PRODUCTION CREDITS
Producer/Director – Sterling Noren
Executive Producer – Helge Pedersen
Director of Photography – Sterling Noren
Video Editor – Sterling Noren
Still Photography – Helge Pedersen
Video Post-Production – Noren Films
DVD Production – Noren Films
Graphic Design – GlobeRiders
EXPEDITION TEAM
Bryan Clague
Mike Matthews
Sterling Noren
Mike Paul
Helge Pedersen
John Shelton
David Stafford
Rick Wetzel
Ian woods
David Wilde
Jim Hay
Jim Harding
Roy Cox
SPONSORS
BMW Motorcycles of North America
Touratech-USA
ABOUT GLOBERIDERS
GlobeRiders is a diversified motorcycle adventure touring and multi-media company founded by Helge Pedersen, headquartered in Seattle, Washington, USA. GlobeRiders specializes in small-group, long-duration scenic and cultural motorcycle journeys to areas of the world neither easily accessible nor commonly visited by most.
ABOUT HELGE PEDERSEN
Photojournalist Helge Pedersen is the author of 10 Years on 2 Wheels, which chronicles an amazing journey riding 250,000 miles by motorcycle through 77 countries. Documenting his travels, Pedersen's photographic passion celebrates the diversity of life on earth, focusing on human culture, wildlife and scenic vistas.
ABOUT NOREN FILMS
Noren Films produces award-winning documentaries, television series, instructional videos and advertising for the adventure motorcycling industry and beyond. The company was founded in 2006 by Sterling Noren and is located in Seattle WA.
ABOUT STERLING NOREN
Sterling Noren is the Founder and Director of Noren Films. His background includes 24 years of experience as a filmmaker, world traveler and adventure motorcyclist.