THE ICELAND EXPEDITION
GlobeRiders Iceland Expedition is a 60-minute documentary about a motorcycling paradise that is unlike anywhere else on earth with exhilarating riding through raging rivers, breathtaking fjords and expansive lava fields. During the course of this 30-day expedition we traveled 3,000 miles across a land forged by fire and honed by ice.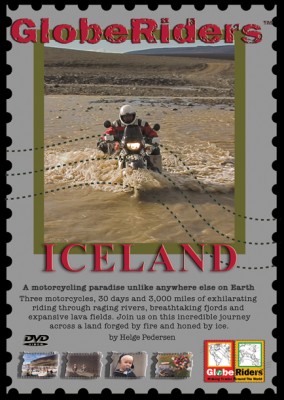 DVD REVIEWS
"This DVD makes my TV look like a 10k HDTV system. The video quality is superb, and so is the photography… The terrain of Iceland provides breathtaking backgrounds for the majority of the video. The use of the word "awesome" is appropriate here as a description."
– ADV Rider
"What could possibly make an adventure motorcycle rider's heart sing this time of year when weather has cut him off from his passion? I guarantee an ear-to-ear grin when this DVD of last year's GlobeRiders expedition to Iceland begins to play."
– BMW Owner's News, December 2003
This was an amazing program. To witness some very skilled long-distance bikers trek across Iceland was very inspiring. I have a cross-bike myself but have never taken it abroad. This DVD has pushed me to seriously consider my own expedition. I wonder if Mr. Pederson is up for another take at Iceland! More about the program: incredible videography, insightful encounters with local culture. I love GlobeRiders Iceland and highly suggest you give it a go!
– Amazon.com
DISC INFO
Video Format: NTSC, Standard-Definition
Audio Format, Dolby Stereo
Aspect Ratio: 16:9 (Widescreen)
Regions: All Regions
Language: English
Number of Discs: One dual-layer disc
Movie Length: 60 minutes
Studio: GlobeRiders/Noren Films
DVD Release Date: December 30, 2006
Retail Price: $19.95
DVD CHAPTERS
• Northeast Iceland
• The Interior Part 1
• Southeast Iceland
• Reykjavik
• The West Fjords
• The Interior Part 2
• Leaving the Island
BONUS MATERIAL
Slide Show
"Getting There" video
DVD Previews
DVD Order Information
Credits
PRODUCTION CREDITS
Producer – Sterling Noren
Director of Photography – Sterling Noren
Script – Sterling Noren and Helge Pedersen
Editor – Sterling Noren
Photography – Sterling Noren
SPECIAL THANKS
Acerbis
BMW Motorcycles of North America
Digital Wallet
Motorcycle Express
Metzler Motorcycle Tires
Ride West BMW
ROK Straps
Saddleman
Touratech
EXPEDITION TEAM
Sterling Noren
Helge Pedersen
Chris Poland
SPONSORS
Touratech-USA
Motorcycle Express
Beemer Cycle Insurance
ABOUT GLOBERIDERS
GlobeRiders is a diversified motorcycle adventure touring and multi-media company founded by Helge Pedersen, headquartered in Seattle, Washington, USA. GlobeRiders specializes in small-group, long-duration scenic and cultural motorcycle journeys to areas of the world neither easily accessible nor commonly visited by most.
ABOUT HELGE PEDERSEN
Photojournalist Helge Pedersen is the author of 10 Years on 2 Wheels, which chronicles an amazing journey riding 250,000 miles by motorcycle through 77 countries. Documenting his travels, Pedersen's photographic passion celebrates the diversity of life on earth, focusing on human culture, wildlife and scenic vistas.
ABOUT NOREN FILMS
Noren Films produces award-winning documentaries, television series, instructional videos and advertising for the adventure motorcycling industry and beyond. The company was founded in 2006 by Sterling Noren and is located in Seattle WA.
ABOUT STERLING NOREN
Sterling Noren is the Founder and Director of Noren Films. His background includes 24 years of experience as a filmmaker, world traveler and adventure motorcyclist.