THE INDOCHINA EXPEDITION
From Vietnam to Singapore, traveling over 8,000 miles in 71 days through 6 countries, GlobeRiders IndoChina Expedition covers the motorcycle travel experience of a lifetime. The GlobeRiders team are some of the first ever to travel in Vietnam with foreign registered motorcycles. Follow their adventure as they travel through extremes in weather and terrain, and discover the rich and diverse cultures of Vietnam, Laos, Cambodia, Thailand, and Malaysia. After 71 days on the road, their epic journey finishes up in Singapore.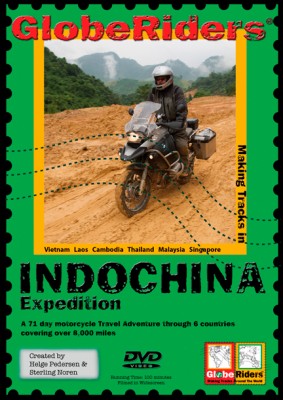 DVD REVIEWS
"Absolutely stunning photography of Vietnam and other countries in Southeast Asia… all in all this was a very worthwhile film."
– Amazon.com
"GlobeRiders Indochina is a fantastic film! It offers fun motorcycle action, beautiful landscapes and cinematography, and insightful cultural experience."
– Amazon.com
"There are plenty of motorcycle DVDs on the market to choose from… but few of those available today are equal to the quality of those produced by Helge Pedersen and his crew at GlobeRiders. As an individual with extensive expertise in audio and television production, and documentary filmmaking, I feel like I watch these types of films with a very critical eye. Nothing annoys me more than poor audio quality on a DVD… That isn't an issue with the offerings from GlobeRiders – they are cranking out DVDs with high production standards that look good and SOUND good. And trust me there are plenty of folks in our world making motorcycle DVDs who don't know how to use a microphone or mix sound very well. I've watched at least a half-dozen of the GlobeRiders films and they are both informative and inspiring. I learn something and I get the itch to travel to yet another country. For example, get yourself a copy of the Indochina Expedition DVD. I've watched it twice. A fascinating journey, superior camera work and again you can HEAR what is going on…"
– BMW Owner's News
AWARDS
2009 Videographer Awards – Award of Excellence
PRESS
GlobeRiders Take to the Road Again to Explore SouthEast Asia
High Def Magazine (Page 12)
DVD INFO
Video Format: NTSC, Standard-Definition
Audio Format, Dolby Stereo
Aspect Ratio: 16:9 (Widescreen)
Regions: All Regions
Language: English
Number of Discs: One dual-layer disc
Movie Length: 100 minutes
Studio: Noren Films
DVD Release Date: Oct 01, 2008
Retail Price: $24.95
DVD CHAPTERS
• Introduction
• Saigon
• Central Highlands
• North Coast
• Northern Vietnam
• Laos
• Luang Prabang
• Vientiane – Stung Treng
• Cambodia
• Thailand – Malaysia
DVD EXTRAS
Previews
Sponsors
Credits
Contact
PRODUCTION CREDITS
Producer/Director – Sterling Noren
Executive Producer – Helge Pedersen
Director of Photography – Sterling Noren
Additional Video – Helge Pedersen
Video Editor – Sterling Noren
Helmet Cam Footage – Helge Pedersen
Still Photography – Helge Pedersen
Video Post-Production – Noren Films
DVD Production – Noren Films
Graphic Design – GlobeRiders
EXPEDITION TEAM
Sterling Noren – Filmmaker
Helge Pedersen – BMW HP2
Chris Poland – BMW R1200 GS
SPONSORS
Touratech-USA
ABOUT GLOBERIDERS
GlobeRiders is a diversified motorcycle adventure touring and multi-media company founded by Helge Pedersen, headquartered in Seattle, Washington, USA. GlobeRiders specializes in small-group, long-duration scenic and cultural motorcycle journeys to areas of the world neither easily accessible nor commonly visited by most.
ABOUT HELGE PEDERSEN
Photojournalist Helge Pedersen is the author of 10 Years on 2 Wheels, which chronicles an amazing journey riding 250,000 miles by motorcycle through 77 countries. Documenting his travels, Pedersen's photographic passion celebrates the diversity of life on earth, focusing on human culture, wildlife and scenic vistas.
ABOUT NOREN FILMS
Noren Films produces award-winning documentaries, television series, instructional videos and advertising for the adventure motorcycling industry and beyond. Our award-winning programs celebrate the intersection of adventure, travel, culture, nature, art and history. The company was founded in 2006 by Sterling Noren and is located in Seattle WA.
ABOUT STERLING NOREN
Sterling Noren is the Founder and Director of Noren Films. His background includes 24 years of experience as a filmmaker, world traveler and adventure motorcyclist.