THE SILK ROAD ADVENTURE
Follow the Globeriders with Helge Pedersen on this journey by motorcycle from Istanbul, Turkey to Xian, China along the historic and fabled Silk Road. The eight-week adventure crossed the vast deserts of Central Asia, high mountain passes, and through crowded, bustling cities. Experience difficult riding conditions, mechanical breakdowns and accidents, and understand why the intrigue of the Silk Road history, countries, and cultures makes the hardships more than worthwhile. Ride along with us as we explore a part of the world seldom visited by foreign travelers.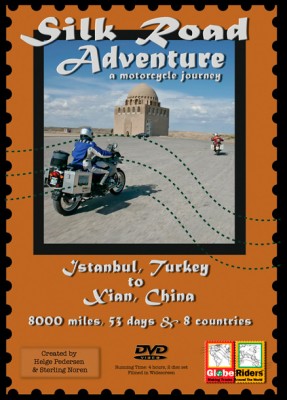 THE DVD
The DVD contains all four 50-minute television episodes about the Silk Road Adventure. It also includes additional information about the riders, DVD previews and photo slide shows.
DVD REVIEWS
"The fabled Silk Road—from Istanbul, Turkey to Xian, China—is both the subject and the setting for this mesmerizing motorcycle travelogue. Shot in HD, this ambitious program successfully combines historical and modern perspectives on an epic 8,000-mile, 53-day, eight-country road trip following 18 riders from the United States on sturdy GS-style BMW motorcycles capable of handling the varied conditions (which range from perfect ribbons of asphalt in beautiful modern cities, to former Soviet states with crumbling infrastructure, to rural dirt paths). Each stop offers rich history lessons, mostly told by English-speaking Turkish, Russian, Middle Eastern, and Chinese local residents, backed with stunning photography of museums, mosques, bazaars, markets, art works, artifacts, and more. Of course, the present often intrudes in the form of both rewards and hardships, which run the gamut from warm welcomes and downright cheap gasoline, to mechanical failures, injuries, and reports of civil unrest ahead. An unusual but fascinating historical travelogue, this is highly recommended."
– Video Librarian Magazine
"This four-hour DVD is reminiscent of a Discovery Channel documentary, and features much more about the cities in which the riders stop along the way than actual riding footage, Still, you can get a feel for the difficulties they face including mechanical breakdowns, accidents and traffic of the bustling cities."
– BMW Owner's News, December 2007
"I have shown the DVD to many of my friends, especially to those not interested in motorcycles. The reaction is pretty consistent: they like the video because it shows countries and cultures very different from USA and it does it in a way that is "easy to watch". Then I tell them that the "easy to watch" part of this DVD is not an accident but rather the combined result of 80 hours of filming and 800 hours of editing by somebody with expertise and total dedication."
– DVD Viewer
PRESS
Sterling Noren Wins HDFEST Best Director
– Janson Media Pressroom
Working with HD by Sterling Noren
DVD INFO
Video Format: NTSC, Standard-Definition
Audio Format, Dolby Stereo
Aspect Ratio: 16:9 (Widescreen)
Regions: All Regions
Language: English
Number of Discs: Two dual-layer disc
Movie Length: 4×50 minutes
Studio: GlobeRiders/Noren Films
DVD Release Date: June 15, 2007
Retail Price: $29.95
DVD CHAPTERS
EPISODE 1 – Turkey
• Introduction
• Getting the Bikes
• Historic Istanbul
• Markets & Nightlife
• Iznik
• Bursa-Safranbolu
• Cappadocia
• Contour Ballooning
• Amasya
EPISODE 2 – GEORGIA, AZERBAIJAN & TURKMENISTAN
• Georgia
• Tbilisi
• Sheki
• Baku
• Crossing the Caspian
• Ashgabat
• Oriental Bazaar & Camel Market
• Iranian Truck Stop
• Ancient Merv
EPISODE 3 – CENTRAL ASIA
• Uzbekistan Introduction
• Bukhara
• Convoy and Gas
• Samarkand
• Tashkent
• Bishkek
• Lake Issy-Kul
• Accident
• Almaty
• Kazakhstan
EPISODE 4 – CHINA
• Jinghe-Urumqi
• Urumqi
• Urumqi-Turfan
• Turfan
• Turfan-Dunhuang
• Dunhuang-Jiayuguan
• Jiayuguan
• Jiayuguan-Wuwei
• Wuwei-Lanzhou
• Lanzhou
• Xian
DVD EXTRAS
Riders
Previews
Sponsors
Credits
Contact
Episode 1 Slide Show
Episode 2 Slide Show
RIDERS
David A. – BMW R1200 GS
Frank B. – BMW R1200 GS
Dean F. – BMW R80 G/S
Jim H. – BMW F650 GS
John L. – BMW F650 GS
Hans M. – BMW R1100 GS
Perry M. – BMW F650 GS
David O. – BMW F650 GS
Helge P. – BMW R1150 GS
Chris P. – BMW R1100 GS
Jeff and Ann R. – BMW R1150 GS
Bud R. – BMW R1200 GS
Jim R. – BMW R 1200 GS
Laura S. – BMW R100 GS/PD
Roger W. & Mike B. – BMW R100 GSPD
Rick W. – BMW R100 GS
Jay Y. – BMW R1150 GS
PRODUCTION CREDITS
Written & Directed by Sterling Noren
Narrated by Jim Cissell
Filmed & Edited by Sterling Noren
Still Photography by Helge Pedersen
SPECIAL THANKS
MIR Corporation – Seattle, WA
Kazoom Moto Adventures – Istanbul, Turkey
Kazim Uzunoglu – Guide
Guneyt Oznisantasi – Driver
Anatolian Carpets, Kilims and Sumacs
Iznik Foundation
Onur Carpets and Kilims
Maya Katashili – Georgia Guide
Lytif Hasanly – Azerbaijan Guide
Elchin Mamedib – Manager
Kiril Takhtamyshev – CIS Guide
Sasha Lim – CIS Guide
Larissa Takhtamyshev – Samarkand
Zahir Rajaboff – Tashkent
Vladmir Vagin – Driver
Janybek Omorot – Kyrgyzstan Guide
Nazira Rakmetova – Almaty Guide
Eldus Ametbay
Kazakhstan MC Club
CSITS – China Sea International Travel Service
Yu Xinmin "Sim" – China Guide
Jin Yingjie – China Guide
SPONSORS
Touratech-USA
MedJet Assist
ABOUT GLOBERIDERS
GlobeRiders is a diversified motorcycle adventure touring and multi-media company founded by Helge Pedersen, headquartered in Seattle, Washington, USA. GlobeRiders specializes in small-group, long-duration scenic and cultural motorcycle journeys to areas of the world neither easily accessible nor commonly visited by most.
ABOUT HELGE PEDERSEN
Photojournalist Helge Pedersen is the author of 10 Years on 2 Wheels, which chronicles an amazing journey riding 250,000 miles by motorcycle through 77 countries. Documenting his travels, Pedersen's photographic passion celebrates the diversity of life on earth, focusing on human culture, wildlife and scenic vistas.
ABOUT NOREN FILMS
Noren Films produces award-winning documentaries, television series, instructional videos and advertising for the adventure motorcycling industry and beyond. Our award-winning programs celebrate the intersection of adventure, travel, culture, nature, art and history. The company was founded in 2006 by Sterling Noren and is located in Seattle WA.
ABOUT STERLING NOREN
Sterling Noren is the Founder and Director of Noren Films. His background includes 24 years of experience as a filmmaker, world traveler and adventure motorcyclist.