BMW F650 GS ADVENTURE TOURING
If you own a BMW F650, F650GS, or F650GS Dakar, our DVD will fill in the gaps about how to prepare and accessorize your single. Helge owned one of these sturdy bikes, and from his experiences on tours and expeditions, he shares what he has learned from thousands of miles in the saddle.
DVD REVIEWS
"This is a great video for the F650GS by Helge Pedersen who's ridden the F as much as anybody, I suppose, and he lays out some very helpful advice for the kinds of repairs travelers might encounter. Not the be all and end all of maintenance but a good start, covering the basics. "
– Amazon.com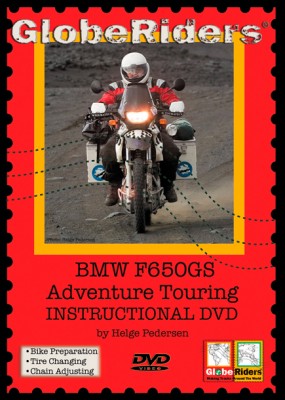 PURCHASE DVD
DVD INFO
Video Format: NTSC, Standard-Definition
Audio Format, Dolby Stereo
Aspect Ratio: 16:9 (Widescreen)
Regions: All Regions
Language: English
Number of Discs: 1
Movie Length: 120 minutes
Studio: GlobeRiders/Noren Films
DVD Release Date: December 30, 2006
Retail Price: $34.95
DVD CONTENTS
• Introduction
• Lessons
• Bike Preparation
• Packing Tools
• Routine Inspections
• Chain Adjustment
• Chain Lubricant
• Carrying Photo Gear
• Oil Change Tip
• Air Filter
• Improvising
• Puncture Repair
• Tire Pump
• Changing Tires
• Start
• Removing Panniers
• Removing Rear Axel
• Securing the Center Stand
• Inspecting Brake Pads and Chain
• Removing Air from the Tire
• Breaking the Bead
• Removing Tire from the Rim
• Taking Tube Out
• Finish Removing Tire from Rim
• Inspecting Tire for Damage
• Installing New Tire on Rim
• Tire Irons
• Installing Inner Tube
• Finish Installing Tire on Rim
• Straighten Valve and Add Stem
• Start Adding Air
• Setting Bead
• Drive Cushions and Sprocket
• Installing Rear Wheel
• Reinstall Axel
• Pumping Brakes
• Adding Weight to Balance Bike
• Removing Front Wheel
• Removing Valve
• Checking Spokes
• Breaking the Bead
• Removing Tire from Rim
• Removing Inner Tube
• Inspecting Rim
• Installing Tire on Rim
• Installing Inner Tube
• Finish Mounting Tire on Rim
• Adding Air
• Installing Wheel on Bike
• Tightening Chain
• Center & Tighten Axel
DVD BONUS MATERIAL
• Slide Show
• Order
• Credits
• Previews
• Sponsors
PRODUCTION CREDITS
Helge Pedersen – Executive Producer, Digital Photography
Sterling Noren – Video Production, DVD Authoring
Chris Poland – Rider
SPONSORS
Touratech-USA
Motorcycle Express
PPS Suspension
Nikwax Powersports
ABOUT GLOBERIDERS
GlobeRiders is a diversified motorcycle adventure touring and multi-media company founded by Helge Pedersen, headquartered in Seattle, Washington, USA. GlobeRiders specializes in small-group, long-duration scenic and cultural motorcycle journeys to areas of the world neither easily accessible nor commonly visited by most.
ABOUT HELGE PEDERSEN
Photojournalist Helge Pedersen is the author of 10 Years on 2 Wheels, which chronicles an amazing journey riding 250,000 miles by motorcycle through 77 countries. Helge's profound motorcycle touring experience and knowledge gained in the course of his many travels makes him uniquely qualified to know what works, what doesn't, and what to do when things go wrong in the field.
ABOUT NOREN FILMS
Noren Films produces award-winning documentaries, television series, instructional videos and advertising for the adventure motorcycling industry and beyond. The company was founded in 2006 by Sterling Noren and is located in Seattle WA.
ABOUT STERLING NOREN
Sterling Noren is the Founder and Director of Noren Films. His background includes 24 years of experience as a filmmaker, world traveler and adventure motorcyclist.