BMW R 1100/1150 GS ADVENTURE TOURING
Learn how to change tires, prepare, accessorize and field repair your shaft-driven BMW oilhead for the adventure ahead. Included are emergency and basic repair how-to's, along with equipment recommendations.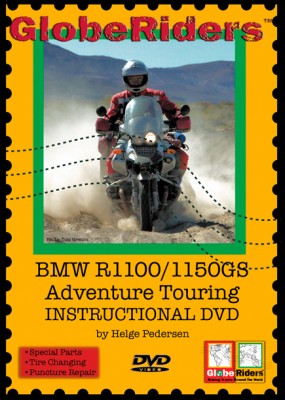 DVD INFO
Video Format: NTSC, Standard-Definition
Audio Format, Dolby Stereo
Aspect Ratio: 16:9 (Widescreen)
Regions: All Regions
Language: English
Number of Discs: 1
Movie Length: 120 minutes
Studio: GlobeRiders/Noren Films
DVD Release Date: January 2, 2007
Retail Price: $34.95
DVD CONTENTS
• Introduction
• Special Parts
• Headlight & Oil Cooler
• Xenon Lights
• Cockpit Controls
• Helge's Photo Bag
• Tool Kit
• Spare Parts & Supplies
• Suspension
• Air Filter
• Electrical
• Changing Tires
• Wheel Removal
• Letting the Air Out
• Securing Center Stand
• Breaking the Bead
• Removing Tire from Rim
• Finishing Tire Removal
• Directional Arrow
• New Tire on Rim
• Inflation
• Reinstalling Wheel
• Pumping Brakes
• Rear Wheel
• Puncture Repair
• BMW Kit
• Pocket Plugger
• Extreme Puncture Repair by Adding Inner Tube
DVD BONUS MATERIAL
• Slide Show
• Order
• Credits
• Previews
• Sponsors
PRODUCTION CREDITS
Helge Pedersen – Executive Producer, Digital Photography
Sterling Noren – Video Production, DVD Authoring
SPONSORS
Touratech-USA
Motorcycle Express
PPS Suspension
Nikwax Powersports
ABOUT GLOBERIDERS
GlobeRiders is a diversified motorcycle adventure touring and multi-media company founded by Helge Pedersen, headquartered in Seattle, Washington, USA. GlobeRiders specializes in small-group, long-duration scenic and cultural motorcycle journeys to areas of the world neither easily accessible nor commonly visited by most.
ABOUT HELGE PEDERSEN
Photojournalist Helge Pedersen is the author of 10 Years on 2 Wheels, which chronicles an amazing journey riding 250,000 miles by motorcycle through 77 countries. Helge's profound motorcycle touring experience and knowledge gained in the course of his many travels makes him uniquely qualified to know what works, what doesn't, and what to do when things go wrong in the field.
ABOUT NOREN FILMS
Noren Films produces award-winning documentaries, television series, instructional videos and advertising for the adventure motorcycling industry and beyond. The company was founded in 2006 by Sterling Noren and is located in Seattle WA.
ABOUT STERLING NOREN
Sterling Noren is the Founder and Director of Noren Films. His background includes 24 years of experience as a filmmaker, world traveler and adventure motorcyclist.