BMW R1200 GS ADVENTURE TOURING
The R1200GS DVD covers the many aspects of accessory selection, bike prep and outfitting, tire puncture repair, tool selection, what we've learned about the new CANbus system, and the many aspects of adventuring on BMW's flagship global tourer.
THE DVD
The R1200GS DVD is a 4-hour, 2-disc set, and includes bonus chapters on the BMW HP2, and an R1200GS/EZS adventure touring sidecar.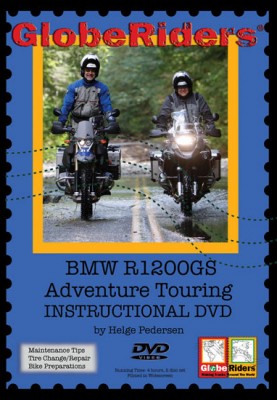 PURCHASE NOW
DVD INFO
Video Format: NTSC, Standard-Definition
Audio Format, Dolby Stereo
Aspect Ratio: 16:9 (Widescreen)
Regions: All Regions
Language: English
Number of Discs: 2
Movie Length: 240 minutes
Studio: GlobeRiders/Noren Films
DVD Release Date: September 15, 2007
Retail Price: $34.95
DVD CONTENTS
Disc One
• Introduction
• Special Parts – Reviews of more than 50 special parts & accessories, how to modify the standard BMW toolkit, what extra parts to carry, working with the CANbus electrical system
• BMW Panniers – Helge examines the new panniers by BMW/Touratech – how they work, strengths & weaknesses
• Other Luggage – What to carry, how to distribute the weight & how to keep your gear dry – including tanks bags, camera bags, tent, sleeping bag
• Touratech 1200GS – A standard 1200GS loaded to the max with Touratech parts & accessories
• Air Filter – How to examine and replace the air filter
• Oil Filter – How to change the oil and replace the oil filter.
• Rear Brakes – How to change the brake pads
• Front Brakes – How to change the brake pads
Disc Two
• Puncture Repair – Several different ways of fixing flat tires while "out in the bush" including products by BestRest Products, BMW, Genuine Innovations and Touratech
• Tire Change – How to easily remove the wheels from the bike and change tires including tips on breaking the bead
• BONUS: HP2 with Modifications – Helge shows his new HP2 and its special modifications in preparation for the GlobeRiders Indochina Expedition.
• BONUS: R1200GS with Sidecar – GlobeRider Mike Paull shows his one-of-a-kind R1200GS with a fully loaded GS sidecar kit that includes special parts 
from Touratech, radar detectors, laser jammers, an electromagnetic shifter, additional battery and highly modified electrical system
PRODUCTION CREDITS
Producer – Sterling Noren
Director of Photography – Sterling Noren
Script – Sterling Noren and Helge Pedersen
Editor – Sterling Noren
Photography – Sterling Noren
SPONSORS
Touratech-USA
Sandia BMW Motorcycles
ABOUT GLOBERIDERS
GlobeRiders is a diversified motorcycle adventure touring and multi-media company founded by Helge Pedersen, headquartered in Seattle, Washington, USA. GlobeRiders specializes in small-group, long-duration scenic and cultural motorcycle journeys to areas of the world neither easily accessible nor commonly visited by most.
ABOUT HELGE PEDERSEN
Photojournalist Helge Pedersen is the author of 10 Years on 2 Wheels, which chronicles an amazing journey riding 250,000 miles by motorcycle through 77 countries. Helge's profound motorcycle touring experience and knowledge gained in the course of his many travels makes him uniquely qualified to know what works, what doesn't, and what to do when things go wrong in the field.
ABOUT NOREN FILMS
Noren Films produces award-winning documentaries, television series, instructional videos and advertising for the adventure motorcycling industry and beyond. The company was founded in 2006 by Sterling Noren and is located in Seattle WA.
ABOUT STERLING NOREN
Sterling Noren is the Founder and Director of Noren Films. His background includes 24 years of experience as a filmmaker, world traveler and adventure motorcyclist.