THE MOVIE
Beyond The Border (Riding Solo in Mexico) is a motorcycle adventure film created by Sterling Noren. It's a story of determination, discovery and adventure set in Baja and the Sierra Madre Mountains of Northern Mexico. Against a backdrop of violence and murder associated with the drug war, a motorcyclist (Sterling Noren) heads out on a journey to explore Mexico all alone. He is a solo filmmaker with no support, no back up plan and no reservations. His goal is to survive the challenges of riding alone in Mexico, document the journey on film, and find a story about life in Mexico that isn't full of violence and despair. He encounters many difficulties on the 3,000 mile expedition across rugged terrain and bad roads, and the journey becomes a true story of friendships, fears and challenges. The adventure ultimately leads to the discovery of a hidden tribe (The Raramuri), an epic race (the Copper Canyon Ultra Marathon) and a living legend (Caballo Blanco).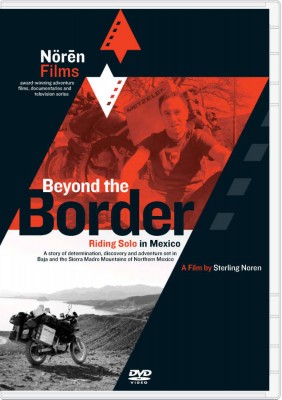 AWARDS
2011 Mexico International Film Festival Golden Palm Award
2011 Mountain Film Festival Sir Edmund Hillary Award Winner
2010 MarCom Awards Platinum Award
REVIEWS
"If you're feeling a little winter-blues, we highly recommend a new video by filmmaker Sterling Noren… This engaging film delivers on its promises: adventure, and some fantastic people stories, deep in the heart of wild Mexico."
– Overland Journal newsletter Feb 2011
"It's less about the road and more about the journey… This was a thoroughly enjoyable hour well spent."
– BMW Owners News, April 2011
"The production quality is very good considering it was entirely captured by a solo rider. The scenery is spectacular and the soundtrack adds to the Latin flavor…"
– ADV Moto Magazine, Jan/Feb 2012
"Anyone with a desire to take the world's less-traveled roads by motorcycle will enjoy Beyond the Border."
– Rider Magazine, Nov 2011
"I rode this route in reverse in the winter of 2012. I went before I saw this film. I went to almost all of the same places and found the information factual and the film work excellent for the genre. For anyone thinking of doing this ride, you wont find a more accurate portrayal of the place. Having ridden these roads I'd like to compliment the guys bike handling abilities. I like the plain spoken style of the narration. Bien hecho!"
– Amazon.com
"I was excited to see Sterling Noren documenting his solo adventure in Mexico. I've dreamed of taking this same adventure for several years and I admit I've been concerned about this area due to the news reports. Sterling not only shows that it can be done safely, but he shows that there is a lot to see and experience while on an adventure motorcycle. Way to go, Sterling!"
– Amazon.com
"Sterling Noren is an artist. Noren is amazing in his ability to make an entertaining film of his solo adventure. This documentary is as good as the work he has done with Globeriders the production quality is as good as it gets!"
– Amazon.com
PROGRAM IMAGES

PRESS
Interview with Sterling Noren on Motojournalism.com
DVD INFO
Video Format: NTSC, Standard-Definition
Audio Format, Dolby Stereo
Aspect Ratio: 16:9 (Widescreen)
Regions: All Regions
Number of Discs: One dual-layer disc
Total Length: 1 hour
Studio: Noren Films
DVD Release Date: Oct 21 2010
Retail Price: $24.95
DVD CHAPTERS
• Open
• Crossing the Border
• Mike's Sky Ranch
• San Felipe to Puertocitos
• Coco's Corner
• San Ignacio
• San Juanico
• La Paz
• Sinaloa
• Into the Sierra Madre
• Descent
• Urique
• Divisadero and Creel
• Batopilas
• To Urique
• Ultra Marathon
• Close
• Credits
DVD BONUS SECTION
• Movie Trailer
• Super Athletes of the Sierra Madre – Short Film
• More DVD Trailers
• Slideshow
• Contact
ABOUT NOREN FILMS
Noren Films produces award-winning documentaries, television series, instructional videos and advertising for the adventure motorcycling industry and beyond. Our award-winning programs celebrate the intersection of adventure, travel, culture, nature, art and history. The company was founded in 2006 by Sterling Noren and is located in Seattle WA.
ABOUT STERLING NOREN
Sterling Noren is the Founder and Director of Noren Films. His background includes 24 years of experience as a filmmaker, world traveler and adventure motorcyclist.